Coolant Leaking at Thermostat?
By: · December 19, 2013
My 2008 Chrysler Sebring is experiencing a coolant leak under the engine, it does not run hot, but there are small spots of greenish liquid when I park after driving.  I took it to Firestone because they changed the upper hose when I got a coolant service. They said the pressure test directed a problem with the thermostat and both would need to be changed along with the housing a gasket.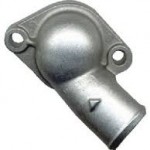 Read the original post:
Coolant Leaking at Thermostat?